Design Overview
ANGÉ Tile-EZ Shower Pans, available in standard and custom sizes, provide the most comprehensive solution for achieving a guaranteed water-tight tiled shower pan in both commercial and residential shower installations. The Tile-EZ Pan is a complete, one-piece, code-compliant, mildew-resistant, long-term sustainable receptor made with a proprietary light-weight durable solid composite designed for tile applications. All Tile-EZ Pans including ones with Tile-EZ Integrated Seats incorporate an integral flange system that requires no sealing or assembly in the field, and are guaranteed not to leak. Tile-EZ Seats are designed for loads in excess of 1,000 lbs. The Tile-EZ Pan system includes a proprietary Tile-EZ Drain which incorporates a secondary weep draining system, and Tile-EZ Approved water-based, high quality thin-set (available through our resellers).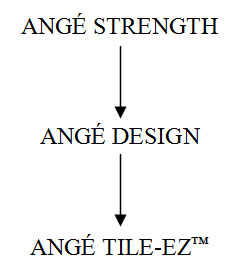 STANDARD SIZES
Tile-EZ Standard Pan sizes, available for immediate project needs, include the Tile-EZ larger 4-1/2 inch curb for use with standard 6 inch marble sills. Standard size pans that have center drain placements are designed where the drain is centered on the inside of the pan after the application of tile. For a complete list of standard sizes and specifications,
click here
.
ADA / BARRIER FREE
Tile-EZ Pans are available barrier free in either a Traditional Design (TD) which incorporates a multi-slope system and round drain(s), or a patent-pending One-Slope Trough (OST) design. Click here to learn more.
CUSTOM PANS
Tile-EZ has virtually unlimited capability in manufacturing custom sizes, non-standard shapes and designs, including
Custom drain placements including multiple drains
Multiple Curbs including double and triple thresholds
Pans with Integrated Seats
Neo Shapes with one, two or three curbs
Partial curbs for use with adjacent knee or full privacy walls
Neo Shapes and Out-of-Square design and applications
For Custom Design Options and Ideas, click here.