Niches
ANGÉ Tile-EZ Niches, with it one-piece design construction, provide a guaranteed water-tight solution for recessed storage of shampoo, soap, and miscellaneous toiletries in tiled shower applications. Recessed niche units increase the functionality of a shower by maximizing storage without sacrifice of interior shower space. With its spacious design and functionality, Tile-EZ Niches are also utilized for other wall applications in home and commercial settings such as Kitchen Spice and Oil Storage Nooks, Hallway or Accent Open Display Cases, etc.
ANGÉ Tile-EZ Niches, available in both standard and custom sizes, incorporate an integrated shelf design with a slight pitch that permits proper storage of items while insuring adequate water run off during a shower after installation of tile, and is manufactured with a high content of recycled material for a more environmentally friendly, Green product niche wall storage solution than other niche products on the market.
Tile-EZ Standard Niches are designed to fit between conventional 2×4 wall stud openings and incorporate a front overlap of ½-inch permitting the niche face to be flush with conventional ½-inch cement board for easy tile installation.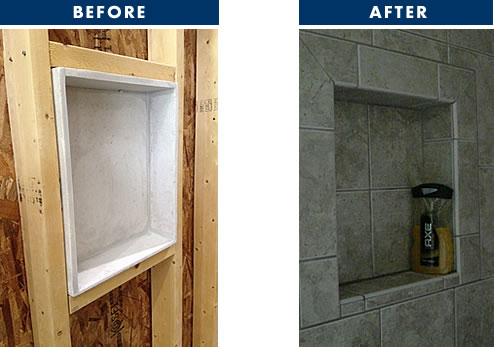 Tile-EZ Shampoo Standard Niche (shown above) is a spacious 15-Inch high by 13-1/4 inch wide (I.D.) dimension. Tile-EZ Soap Standard Niche (shown below in combo picture) is 5-Inch high by 13-1/4" wide (I.D.). Tile-EZ Niches can be customized to meet special needs and luxury shower applications including other depths including 2×6 wall construction and non-standard sizes or shapes.
TILE-EZ COMBO DESIGN FEATURE – For Combo (Shampoo/Soap) Units, Tile-EZ separate unit design and easy installation allows flexibility for spacing distance between the two niches, permitting use of any size tile or accents on the shower wall. Simply install a standard size soap unit below a standard or custom Tile-EZ Shampoo unit for creating a Combo Storage Unit.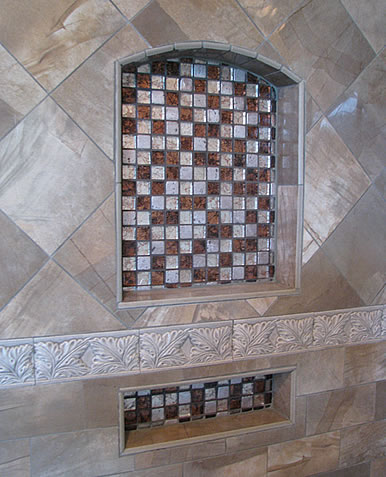 Guaranteed Not to Leak and Easy to Install

Tile-EZ Niche Features include:
Pre-sloped horizontal shelf design for proper run off of water – Guaranteed not to Leak!
Spacious design that fits between conventional 2×4 stud openings – Easy to Install!
Green Product – Environmentally friendly with recycled material content.
Multiple size and design options.
Easy-to-use water based thin-set (Tile-EZ Approved) is used for setting tile directly on Tile-EZ Niches.
No epoxies or time-sensitive tile setting materials are required.