Barrier Free & ADA Pans
Tile-EZ Barrier Free & ADA Shower Pans
ANGÉ Tile-EZ provides the most design flexibility for achieving barrier free and other special need shower applications that want accessible solutions while desiring the use of tile for its unmatched durability and timeless beauty.
Quick, easy and a guaranteed leak-free solution for installing barrier free tile shower pans, the Tile-EZ Barrier Free Shower Pans are available in either its Traditional Design (TD) or its sleek, One-Slope Trough (OST) design.
Traditional Design:
Available in any pan size, Tile-EZ Barrier Free Traditional (TD) Design permits the use of both single and multiple round drains for achieving low entry and barrier free access. With Tile-EZ Barrier Free TD Pans, tiles up to 2" x 2" in design can be used on the Tile-EZ multi-sloped surfaces while achieving proper water flow to the drain(s) and can be transitioned into the bathroom floor that is tiled with different sizes or floor patterns with zero clearance. Use of a standard sill to transition the Tile-EZ Barrier Free TD pan to the adjacent bathroom floor also allows a practical low entry for homes that do not require ADA compliance or zero clearance.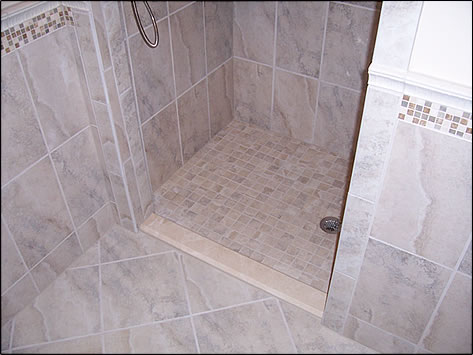 One-Slope Trough (OST) Design:

Tile-EZ Barrier Free OST design permits the use of either large or small size tile in the shower for achieving a continuous, seamless look that is ideal for ADA and barrier free applications in both residential and commercial settings. With patents pending, Tile-EZ OST incorporates a sleek one-slope design integrated with a water-tight rear trough drain and removable Tile-EZ Drain Cover that provides a slight ½" channel hardly visible near the rear of the shower to permit water drainage into the hidden trough drain. Learn More about ANGÉ Tile-EZ OST Design and Installation


Guaranteed Not to Leak and Easy to Install

Tile-EZ Barrier Free Shower Pan Product Features include:
Pre-sloped design with integrated flange system – Guaranteed not to Leak!
Optional integrated seats with integrated flange system – Guaranteed not to Leak!
Optional load-bearing structural design (helps minimize height constraints when transitioning to established or adjacent bathroom floor systems to insure proper slopes are achieved at shower entry).
Easy-to-use water based thin-set (Tile-EZ Approved) is used for setting tile directly on Tile-EZ curbs, seats, pan surfaces, and trough drain covers. No epoxies or time-sensitive tile setting materials are required.
Easy Drain Connection – PVC Glue-In Drain Assembly Included with round chrome strainer (optional strainer finishes are available for TD models).
Optional compression drain connection (PVC or brass) is available for slab installations and for other installations where access to plumbing is limited.
No liner, special adhesives, or mud setting required for installation.